New Interactive Map Tells Story of Forest Products in the South
Published February 25, 2016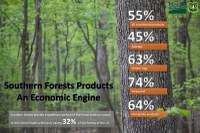 A new storymap developed by U.S. Forest Service researchers allows users to interactively chart the ebb and flow of forest products across the southern states — and visually tells the story of the decline of the forest products industry over the last decades.
Using Forest Service Inventory and Analysis (FIA) data loaded onto Esri's (Environmental Systems Research Institute) ArcGIS Online (AGOL) platform, Southern Forest Products – An Economic Engine, provides a constantly updated guide to southern timber product outputs and the mills that process them, as well as showing change over the past decades.
"This is the first of a suite of AGOL-based storymaps we're developing using FIA data," said Chris Oswalt, research forester with the Forest Service Southern Research Station FIA unit. "The storymap platform allows us to tell a more captivating story, which increases the reach of the data and engages partners we haven't worked with before."
The Southern Products storymap uses layers of maps to show total outputs of different forest products – hardwood and softwood roundwood, sawlogs, pulpwood, and veneer – down to the county level. Users can access layers already developed for a product, and map information for specific products at the county, state, and region levels.
Original Post:
https://www.srs.fs.usda.gov/compass/2016/02/25/new-interactive-guide-tells-the-story-of-forest-products-in-the-south/
Category: Southern Region